MUSIC IN MANCHESTER

The Concretes
Manchester,Hop & Grape 24/6/4
Six guitars, one set of drums and keyboards are all lined up on the stage, leaving one to wonder how the reputed 8 members of the Concretes will fit onto the limited environs of the Hop & Grape. When the 9 players actually take to the stage, they bring with them mandolin, euphonium, clarinet, omni chord plus other hand held instruments.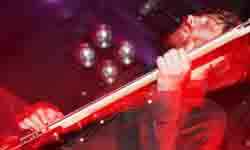 It's clear that we won't be in for a raucous night of rock'n'roll featuring exaggerated histrionics. Or it we are, then I hope someone has called an ambulance as any flying elbows will cause serous injury
Their first "proper" eponymously titled LP has been out for a week, but there is minimal interaction with the crowd, no numbers being announced except one, and little banter until the set is almost complete despite some welcoming comments, mainly from the blokes. Are they expecting the crowd to be fully conversant with their past, or is it a communal shyness that verges on meekness?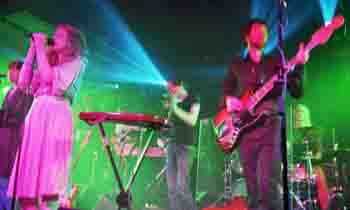 As a spectacle then, it's all eyes on self styled ice maiden Victoria Bergsman (vocals), flaxen haired and demure in posture, dressed out in a long white, flowing dress..
The format for the set is realised early on; a delicate display of melodies and subtleties wrapped around the seductively slurred vocals of Bergsman. It could almost be a version of Belle & Sebastian in a happy mood, as the focus on moods and textures dominate, rather than a wall of sound you might expect from the plethora of toys on stage.
There appears a fascination with the Motown era, or in particular with opener "Diana Ross" (the things a reviewer will do to get a set list eh) and "You Can't Hurry Love" but these bear little resemblance to the sounds of the era.
So take three girls, Bergsman, Lisa Milberg (drums) & Maria Eriksson (guitar), add a few blokes who will provide a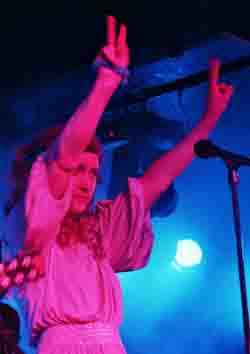 diversity to their simple but effectively told tales, and after a while, exhibiting the signs of kleptomania, they have accumulated an average of one member for every year of their (99) surprisingly long existence.
So the intimate moods of frailty and vulnerability generated are best sampled at home, with a drink in one hand and a lover on the other, rather than under the cold glare of stage lights.
At one point, Bergsman's thanks the audience for "..being so quiet"
But shock horror, this lot occasionally break out of their self imposed restraint, increase the pace, generated feedback, sheer chord strings, and when they do it, tis done well, perhaps too sparingly though.
And nobody mentioned IKEA