The current media (well NME) fixation with kissing the arse of every band that comes out of America irrespective of whether they are any good does at least have one promising outlook
In that it allows ability and talent to develop and flourish away from its destructive gaze
British Sea Power are one band that seems to have benefited from this method of evolution, and their debut album is a corker. This good fortune could also spread to "The Duke Spirit", whose recently released mini-album "roll, Spirit, roll" (out now on City Rockers) reveals a refreshing exercise in the self restraint of intensity and passion.
Promisingly, only half of this materials now form the set list of their latest toilet tour - the Manchester gig being the second in as many months- without any discernible drop in quality.
Almost seemingly press averse (no band member list on their website www.dukespirit.com) each song commences with a minimum preamble, some songs introduced, some not. It's as if they are telling us that the music comes first, and not the accompanying packaging. It works well in that they have a well honed songs to parade, yet in vocalist Leila Moss they have surely one of the central figures for `04, whether it be for her half spoken half sung delivery or the latent sex appeal that rivals anything of Brody Dalle's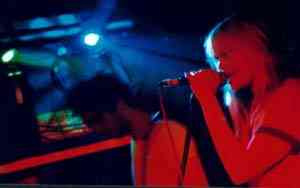 They will probably hate having people "tell" them what their influences "are" but a taught dynamic bass line -courtesy of Toby Butler - that conjures up images of Joy Division or the Cure or Interpol and provides a counterpoint to the sometimes bluesy guitar works of Luke Ford.
Set closer "Red Weather" is an initially slow burning affair that turns into a rousing rant that whets the appetite for more. Let's hope they are given the room to move on