MUSIC IN MANCHESTER

The Kills
Roadhouse 10/3/03
Sleazily draped around the mic stand, VV (aka Alison Mosshart)uses it as a support in the same way that a lap dancer uses a fireman's pole. Her long, hair falls raggedly over her face, partially obscuring it, partly revealing it. The dark, cramped, environs of the Roadhouse suit perfectly the minimalist approach of the Kills who just plough from one song to another, introducing only the final number, "Black Rooster" released as an ep last year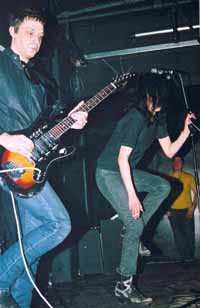 Clever use of backing tapes providing drums, floaty voices and miscellaneous noises means that these are not another White Strips copycat band, though with only two in the band, comparisons are inevitable. Their style is more eclectic, calling upon a seeming psychedelic tinged influences, such at the ethereal voices that introduce a few of the songs in the same way that Pink Floyd did yonks ago.
There's no room here for standard verse/chorus/verse structure of songs, but more a driving, repetitive tone that occasionally verges on the hypnotic, visually enhanced when VV and Hotel (Jamie Hince) turn the stands to face each other in a stand off, confrontational manner.
Raw and brutal, with little respite, are they hype or hit?
The jury is still out