MUSIC IN MANCHESTER

Mars Volta
Move Festival 11 July 03
Lancashire CCC
F*ck me these lads are angry. On a blissfully sunny, rain free Manchester day, mic stands are twisted, before being swung, before being thrown around the Afro-ed head of Cedric Bixler in a seemingly a desperate attempt to cast off the shadows of some dark shadows that are pursuing him.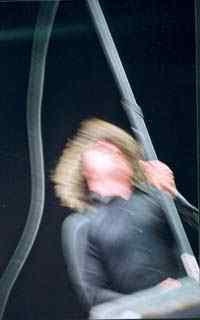 From the moment the band take their positions on the stage, like a boxer primed, focused on delivering their goods with only a limited set of half and hour in length of front of them this 5 piece deliver a beautifully raw spectacle. It must be some scary warm up routine in the dressing room
Complementing Bixler's gyrations and exhortations former "At The Drive In" co-hort guitarist Omar Rodriguez-Lopez swings his guitar around his back, stomps and rages around the arena, in-between trying to discharge searing riffs into the crowd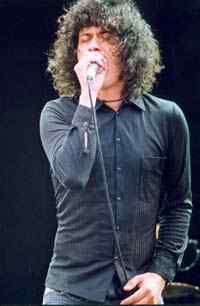 As quickly as roared into the first 3 numbers, with a blitzkrieg attack of voice & guitars they can move down the gears gathering energy for the next assault
The consensus (3 of us) is that at times Bixler's soaring pitch resembles that of Geddy Lee, from the seminal Rush on the more introspective numbers, yet being just as powerfu, just as effective growl that can resemble that of Robert Plant on form
Seemingly Lopez tries to set his guitar on fire as his arm becomes a blur across the fretboard, as chords are not so much struck as attacked
The finale see the mic stand discarded, drums stick thrown, the battle over till the next time. It's an intensity that surely cannot burn for long, but is brighter than much of what is around.
In bright daylight, this seemingly cathartic exercise is a glorious sight and sound,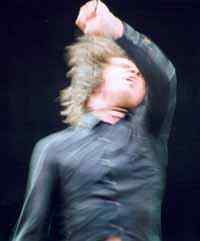 and images of the chaos that would ensue in places such as the Roadhouse or Night & Day, wet the appetite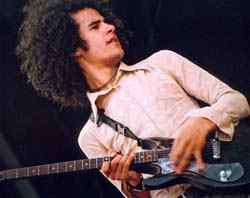 The silence that follows their departure is one of dazed comprehension as the crowd tries to come to terms with what has just gone on.