MUSIC IN MANCHESTER

McLuskey
Roadhouse 12/8/03
Heat wave? 101 degrees? Wusses. Get down to the sweatbox called the Roadhouse for some REAL heat, especially when a band such as the Cardiff based McLusky has the crowd po-going in a frenzy. The fervour which greets the band belies their relatively obscure indie type labeling.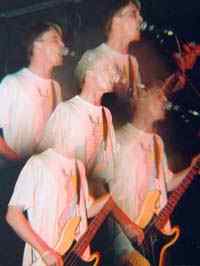 It's not packed tonight, but their followers are camped as close to the stage as the y can get. Well, it's not so much that the feverish punters are trying to get to the stage, but they are actually on it, so much so that bass man John Chapple has to admit to one devotes that he is " …. really scared that I'm gonna (accidentally) hit you with the guitar" Yet you get the feeling that misplaced follower would actually wear any bruises as some from of badge of honour
The fast flung numbers are interspersed with entertaining banter between guitarist and main vocalist Andy Falkous and their devotees. It resembles the type of conversation you may have down the pub with your mates, and is ideal for this is relaxed type of gig. The audience know what they want and McClusky know how to give it
mcl*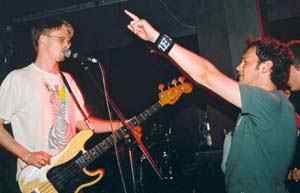 Short, shards of energy laden tunes, abrupt finishes and yelled vocals are sent fizzing from the stage.
Niblets of the punk type (attitude and music) bands that are good to name drop - Pistols, Buzzcocks - etc. appear melded into their own style and dispatched with a vim & verve that leaves one admiring their stamina and effort. More diverse and seemingly unsuspected influences creep surreptisoulsy to the surface (was that "Tiger Feet") - even leading to the moshers handclapping to a Queen "We Will Rock You" snippet.
It takes half and hour (15 songs?) before they even get to one that could loosely be descried as slowing down the pace. The flailing limbs and bodies take respite, have a bit if a breather, in readiness for their next onslaught, which is duly delivered. With close on 20 "songs" being showcased from an extensive back catalogue, the perspiration drenched, young-ish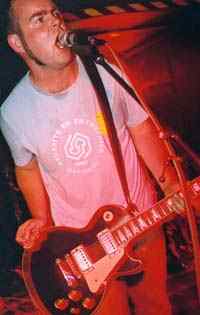 audience disappear into the warm night air
Ged Camera