MUSIC IN MANCHESTER

RAZORLIGHT
MANCHESTER ROADHOUSE, 14/1/

The new year ushers in the regular re-vamp of the much loved Roadhouse, and the concept of being able to improve upon the already excellent, is once again demonstrated as Katy, Jon et all as they prepare for what is their opening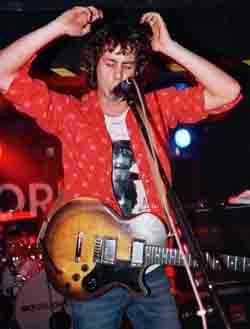 night of the year
With the smell of paint hanging "fresh" in the air, and the sound of builder's tools being packed away, Razorlight begin unpacking for what's also the opening night for them of their latest tour.
With the hype building behind them from lasts year tour & the release of a series of well received signals, a packed crowd of punters embrace the warm, intimate, atmosphere hoping for the January cobwebs to be blown away
Such an event means that he paparazzi are out in force; from the local snapper & writers, to nationals such at the Guardian. Everything is looking good until…. Shit. Simon Price. Independent on Sunday. Easy to recognise as he is the one with the plastic holly (ivy?) on his head. One of the most knowledgeable, commentators of music that there is. I just hope that either there's a lack IoS readers here tonight, or that they read my report first before moving on to his, as in "Save the best till last".
So when Razorlight emerge from their dressing room, the crowd are ready and waiting.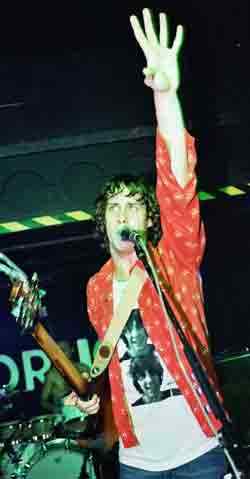 In front man Johnny Borrell they have someone who's continually perfecting his stagecraft. The small venue that it is, the Roadhouse allows the lithesome figure to clamber onto the (newly re-located) monitors, either with guitar or microphone. This early in the tour avoids the cracked, weary vocals, and the twisting torso of all 3 guitarists (Borrell, Agren & Carl) is an indication that they are enjoying events as much as we are
It's sometime not what you've got but how you use it, and catchy throwaway numbers are here by the bucket load. So what if you think you can detect a bit of Pulp, or early (well no one readily admits to their later stuff) Stones meshed into a type of late 70's spiky punk sound - it excludes energy, and just as importantly, fun. They plunder though a set that's full of vibrancy, all the time Borrell gaining in confidence, walking along the speaker stacks, out into the bouncing audience teasing and enticing them.
Yet there's a lot of similar styled bands around at the moment, the most obvious connection being the Libertines, in which Borrell played an early part, so whether they rise above the crowded scene or not remains to be seen. Razorlight or shard of hope?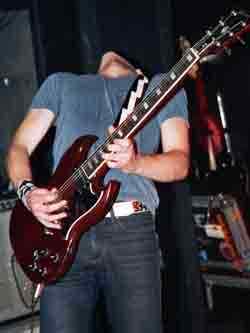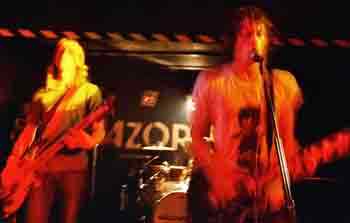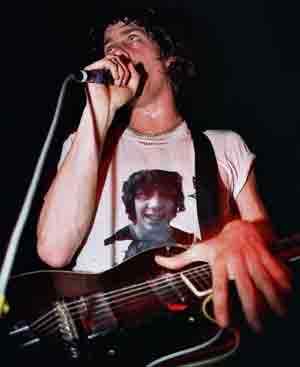 Ged Camerq