MUSIC IN MANCHESTER

REM
Move Festival, Lancashire CCC, 13 July 03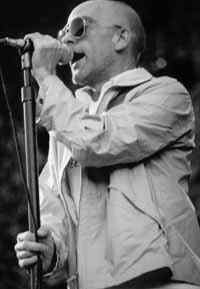 For some it was T in the park, for others it was beer in the club. And music. And sun. I've no idea if 25% of the crowd indulged in sex as per Glasto, but everyone seem to be having fun. For 3 days there was no talk of Weapons Of Mass Destruction, although there were plenty of weapons of mass attraction (© Easyjet), no talk of Beckham et al,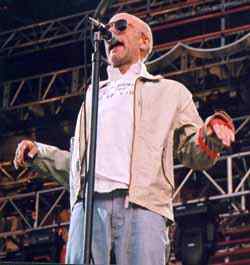 reality stopped at the gates of the cricket club
We even learnt a few new games to play in-between sets, such as "Guess What was the Last CD the Nearest Bouncer Bought" With a selection from
a) Dance Collection
b) Classical collection
c) Coldplay
This weeks winner is Coni Murray with Coldplay!
Or how about "What's the most tenuous excuse used to blag a VIP pass?" Sorry, I can't tell you mine, but at least it had a semblance of truth in, which is more that can be said for some of the ones I heard
And REM conquered a 20+ thousand crowd who had already enjoyed the delights of Badly Drawn Boy and Idlewild earlier that day. Without showing the slightest bit of travel weariness from playing in Scotland the night before, Mike Stipe seemed to feed on the energy seeping from the expectant crowd from the minute he strode purposefully onto the stage. And they were not disappointed with a set that cleverly intermingled oldies with newies to equal delight for the crowd.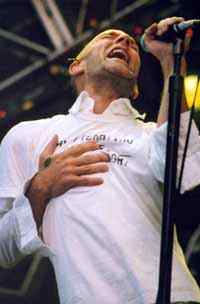 If love is his strongest weapon, then he certainly knows how to use it, as the master craftsman prowls the stage, a focused intensity in his eyes, before he clambers into the audience, causing nightmares for the bouncers, but joy for those who have been crushed at the front for the last 3 hours. So he might have been "Losing His Religion" but tonight REM were re-affirming the faith of their followers with a dynamic set that beguiled, captured and entranced all those fortunate enough to be there. Anyone who can clear the VIP bar MUST be good