MUSIC IN MANCHESTER

We Start Fires
Manchester, Phoenix, 23/6/4
"Wishy-washy indie that pretends to be sensitive and heartfelt but has about as much heart and soul as a bucket of sick" Come on Becky (Stefani, guitarist/vocalist), don't beat about the bush, tell us what you really feel. Needless to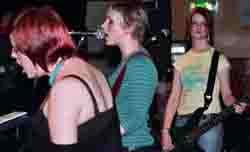 say, this band aren't here to piss about and waste time.
They have a new CD to promote (Caught Red Handed - iva web site www.westartfires.co.uk) and a set brimming with energy to deliver
No intros are offered as this 4 piece blast through their opening slice of rippling guitars overlaid with appropriate dressings of electronica from Melissa Marx
Comparisons have been made with North East compatriots Kenickie, the obvious one being that there's only 1 male (drummer, Ashley Wade) in the line up, but whilst their sound is less poppy that Kenickie, there's definitely a similarity in that essential ingredient - attitude. So when Stefani positively spits out "Don't tell me to stop/You don't know who I am" during the dynamic "Queen Bee", you know not to mess them about..
There are possible snippets of early Roxy Music, maybe the influence of Angelica, but it's all taken down their own dark avenue with a determination borne out of the frustration and boredom they've experienced during their short lives
So each number positively rushes along, laden with energy and vitality, so much so that final number "Blackout" is the sonic equivalent of a punch up; keyboards collide with the guitars of Stefani & Nikki Vaughan, whilst the machine gun like drumming attempts to hold things together until they realise there's just no point and everything comes to a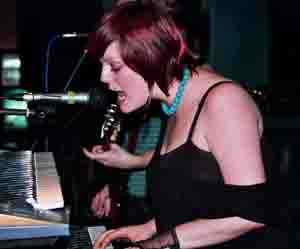 frantic, glorious conclusion
Trying to start a fire in a heart near you