MUSIC IN MANCHESTER

THE ZUTONS
MANCHESTER NIGHT & DAY 20/2/04

By the time the Zutons get on stage, in truth they are in front of an audience already won over, and they could play any old drivel and still get a rapturous reception from another sold out crowd.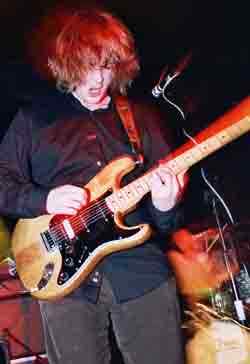 That's not to demean what they put on display here tonight, rather an acknowledgement that their batch of eclectic sounds has been honed and refined by their extensive touring - this is probably their third visit to Manchester in as many months.
Slick on patter, they understand the mechanics of constructing a set that varies in pace, keeps the audience occupied, and deliver a conglomeration of infectious beats that has the place bouncing along. Whilst they will invariably be tagged as part of a "Liverpool Collective" that includes the Coral, the Bandits, the Stands etc., they have sufficient diversity of sound to be uniquely identified - mind you there are similarities as well.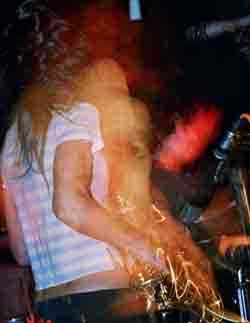 The Clarence Clemons figure is representative of the "typical" sax player; barrel like chest necessitating long arms and the lung capacity of a whale. Typical of the Zutons, this is another image being deconstructed, this time by Abi Harding. Diminutive in size, but big in stature, Harding allows the sax to add vital rhythm and variety to the bass of Russell Pritchard and guitars of Dave McCabe & Boyan Chowdhury.
Whether it be subconscious or not, the line up of the band ensures each member - except drummer Sean Payne -appear on a combined front line, ready to deliver their salvo of songs.
Similarly there is a fierce loyalty to their Liverpudlian background roots, heritage values and traditions (e.g. "Railroad" etc.) being frequently referenced to in different songs. At other times they just want to find a groove with instrumentals standing well alongside their storytelling tales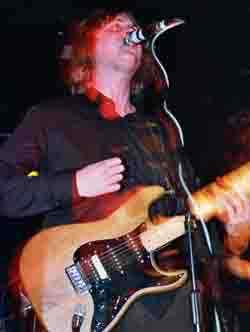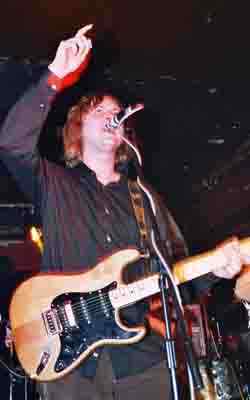 By the time "Pressure Point" emerges from the set, any neutral wondering what all the fuss is about would have seen the potential.
"Zuton Fever" appears to be breaking out
Ged Camera